Discussion Starter
·
#1
·
I originally posted some of this on Ducati.ms but there seems to be more new Monster traffic here. More accessories are turning up all the time, but I've also found a few odds and ends that aren't really specific to the 937, but may help people in their search.
I've got the "tall" seat on my bike, and it is just tall enough for me at 6'3". I see a lot of reviews mentioning that the Monster 950 is small, but for me with the tall seat I've done several 250+ mile days and a 400 mile day with no real comfort issues. The bike is a dream at 70, with wind increasing steadily as your speed increases. You can certainly ride at 90 all day, but it's much more pleasant at a few less mph.
The stock front turn signals aren't nearly as sleek as the euro style, so I swapped them before delivery
Integrated Sequential Signals
The tail of the bike is a little bulky for my taste, but I still wanted a little coverage from road spray so I went with an R&G tail tidy. Smaller and simpler than stock but still some coverage. Also swapped to the Ducati Performance sequential rear signals 96680961BA which are small and bright and have all the right connectors. I got the tail direct from Simon in England but these can be had through twisted throttle I think. I also sourced the frame and fork sliders from R&G.
Signals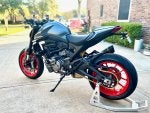 If you've replaced your mirrors with bar-ends...corsair has mirror mount plugs that are reasonably priced and if you are in the US, you can get them quickly with cheap shipping. I went with some affordable bikemaster billet bar end mirrors and threw on a set of tried and true PG717 grips at the same time.
Corsair Industries – Ducati 8mm Mirror Plug
Stock Gearing is 15/43 520 pitch. The stock chain is 106 links and it seems to need adjustment frequently. You can order a sprocket kit for an 899/959 etc if the 937 isn't listed. I got a set from AFAM with the superlite steel and it looks great, doesn't need frequent adjustment, and weighs almost a full pound less than stock. I stayed with stock gearing for highway use since I put most of miles on in 250 miles at a time. You can get these from many vendors, I like Ducati Omaha.
Podium Racing has a ton of titanium special fasteners, axles, bolts for the bike but they aren't listed as for the 937 on the site. If you live or ride near salt water, some of the oem fasteners can get chalky. The titanium looks and holds up better. And it's light. Just send an email and they'll get you the right stuff.
Podium
The stock front brake rotors have steel carriers. They work great and the bike is already light and nimble, but 1.5 lbs of un-sprung rotating weight is 1.5lbs of un-sprung rotating weight. Some of the higher line Ducatis use aluminum carriers and will bolt up if the bolt circle and offset are correct. I swapped a set from a Hypermotard 950 SP and they work great. I also swapped the brake pads with some SBS trackday/street pads which have similar initial bite, but take less force on the lever for harder stops. Got these from Ducati Omaha as well.
SBS Brake Pads
Luimoto made pattern from my stock seat and passenger so if you want to do something more colorful or exciting with the seat, give them a shout. I don't think the new Monster is listed on the site yet, but they do have the pattern now as my seat was the prototype.
Luimoto
I swapped to an SC Project SC-1S carbon slip on. To each his own, but I just prefer the look of the larger single muffler. This is an E5 exhaust so the db killer isn't easily accessible. I used my trusty stepped uni-bit to drill a hole in the endcap directly over the db killer retaining bolt, pulled the db killer, and capped the hole with a push in rubber plug. It is not obnoxious, very subtle change at idle. Not much louder, but much deeper. It quite a bit louder as you get into the throttle and over 4K rpm. Once the headers come in and the flapper is eliminated I may have to put the db killer back in or trim it back a bit to get the mellow sound I want. I'm just too old for the kind of noise that my full termi-d 748 made. Motivation can get you the SC project exhausts via super-special order.
SC Project
Because I usually take longer rides I swapped to a quick release fuel cap. It also looks cool and weighs a lb or so less than stock. With the cellphone mounted near the ignition this makes it much nicer than having to pull the key every time I pull off to top up. Cellphone mounted via quadlock with wireless charging and vibration damper. I just plugged the charger in under the seat and ran the wire up the backside of the lower tank panel trim.
Gas Cap
I also put an antigravity ATZ7RS battery in mostly because I was bored this winter, but also because it dropped a good chunk of weight up high in the passenger seat. From Amazon I think.
It's been a sweet little bike to ride, and weighs 391lbs with the above mods and about a gallon of gas.