Hello Everyone,
one month ago, I buy a monster 600 from 1999.
I think this paint is something special. I tried googled something about that and only thing what I found was another monster but 900 for sale with this paint.
What is wired is, signature on tank. That motocycle for sale doesn't have that.
Could be a some limited edition? Or only great artist work of painting.
My Monster: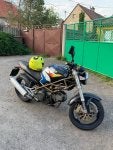 Another one: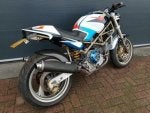 Okay, thanks to this forum, I found it is probably work of Claudio Mazzi