Part of Joe Rocket's ideology is to never stop improving and that's reflected in the constant evolution of their gear. Rather than attempting to completely redefine a given segment of motorcycle apparel, like the all-weather textile jacket, they often choose instead to refine an existing piece of gear and the Atomic 4.0 jacket is proof thereof. Drawing on lessons learned from the previous Atomic 3.0 textile jacket (which wasn't bad at all!), its 100% waterproof outer shell is designed to protect the rider from rain and cold weather yet still permit comfort on hot days. This is done with what Joe Rocket calls the Cross Linked Ventilation system – a series of zippered pockets which you can use to adjust the amount of air going through the jacket. Notice that the word 'through' is used as opposed to just 'in.' After all, what good is a bunch of air being stuffed in the front going to do if it has nowhere to go? Exhaust vents on the back are designed to complement those on the front to allow air to circulate around the torso and out the back, taking heat and moisture with it. Of course, an insulated full-length liner is included, ready to keep you warm when it gets really cold out.
The entire shell is designed not only with protection from the elements in mind, but also protection from pavement with CE-rated armor in the elbows and shoulders along with a removable spine protector which can be upgraded with CE-rated armor if you choose. Snap-fit adjusters in front of the elbows take slack out of the middle of the arms and elastic sleeve adjusters help you fit gloves over the cuffs themselves. There's even snap locks for attaching the jacket to your belt, which is a really nice way to keep cold wind from blowing up your back when you use it. The Sure Fit adjustable waistband also keeps the wind off your back by allowing you to cinch away excess material down low. As you can tell, this three-season jacket is ready for the road!
The Atomic 4.0 jacket is available in sizes small to 3X-large (up to 5X-large in black!) to fit a wide range of riders. You can order by going to
our website
for further information and then call MIKE at 866.931.6644 ext 804 for expert sizing guidance and fast shipping. You may also email any questions you have to MIKE at RIDERSDISCOUNT dot COM with ATOMIC 4.0 in the subject line, along with the color you want and we'll get back to you pronto.
The Atomic 4.0 jacket in solid black.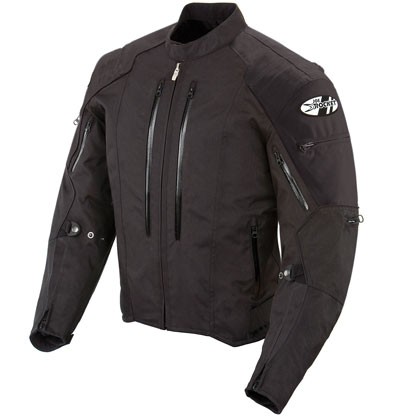 Black and blue textile jacket.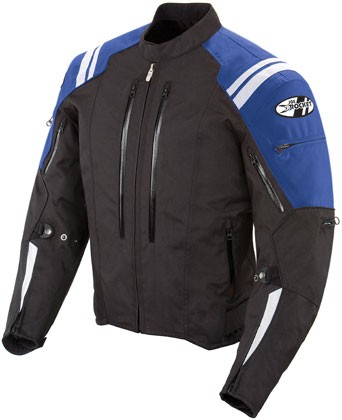 Here, you can see the front vents opened on this red/black version of the Atomic Joe Rocket textile jacket. Two intakes on the center of the chest and two more in front of the biceps help deliver a LOT of cooling air to the rider.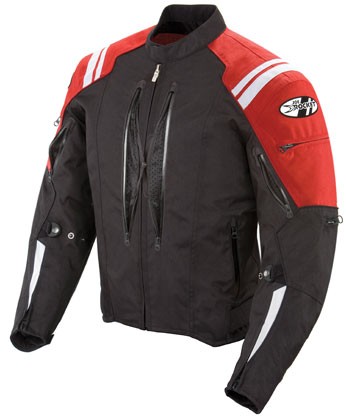 If you look closely on the back side, you can see the well-hidden exhaust vents.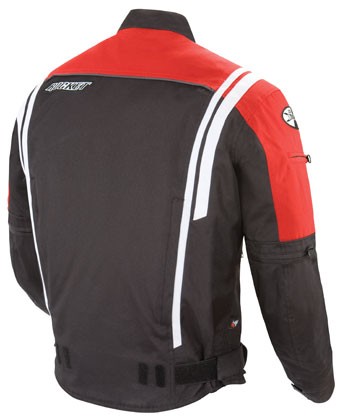 The black and grey Atomic 4.0 jacket. A tallish collar is excellent to have tucked up under your helmet when it's cold outside.