With approximately 30,000 service members riding motorcycles, the Department of Defense realized in the not-so-distant past that the high likelihood of injury associated with motorcycle accidents may have an adverse effect on end strength. In the interest of preserving morale by not enforcing an outright ban on motorcycles, it was decided that certain kinds of equipment had a significant effect on reducing the chances of a collision involving a motorcycle. Consequently, new regulations for motorcycle use by service members were created stressing, among other things, retro-reflective gear. Enter the MIL SPEC 2 vest from Icon. While it's only one part of your mandatory PPE for riding, other than a helmet, it's the one thing your mentor is most likely to bust you for. And no matter if you're in for two years or a lifer, disciplinary administrative actions never look good on the old EPR/OPR.
The MIL SPEC vest meets all DoD requirements for brightly colored, reflective outer-upper riding gear for day or night use. What's particularly advantageous about this vest is that you can wear it over your standard riding gear (less expensive than buying a new jacket) or, since regulations permit – you can wear it over your uniform thanks to its adjustable fit. The vest comes in two sizes which fit either x-small to large or x-large to 3x-large. The advantage of this adjustability is that you can easily adapt the vest to suit whatever you happen to be wearing on the day; from fatigues to an armored leather jacket. The fit is adjusted via cinch-straps located on the lower sides so, all you have to do is put the vest on, zip it up and take out the slack. Thanks to the wide open shoulders, you won't have a problem getting the vest on your upper body.
For comfort, the Icon MIL SPEC is made with a mesh chassis that lets air pass through as you ride, so you won't feel like you're in a sauna on hotter days - you'll probably forget it's there once you ride off. In addition to its sizing adaptability, located on the lower back is a large 8.5" wide by 10.5" deep pocket with a Velcro flap over the top – perfect for stowing gloves when you hang up the vest. Up front, Icon has included an inner breast pocket which works well for a wallet and mobile phone. For those of you dealing with the occasional toll way, a clamshell pocket on the outer throttle side of the Icon vest is perfect for coins. Finally, instead of fumbling for your DD Form 2A when you get to base, gracefully hand the guard your see-through ID holder that's attached with Velcro to the left side of your chest.
We have these vests available in orange/black or yellow/black. There's also
an instructor's version
available as well.
You can find out more about these vest
on our website
or you can call MIKE at 866.931.6644 ext 804 for easy ordering and fast shipping. You can also email us – send those to MIKE at RIDERSDISCOUNT dot COM with ICON MILSPEC VEST in the subject line along with the size you need and he'll get back to you right away.
The MIL SPEC mesh vest in orange.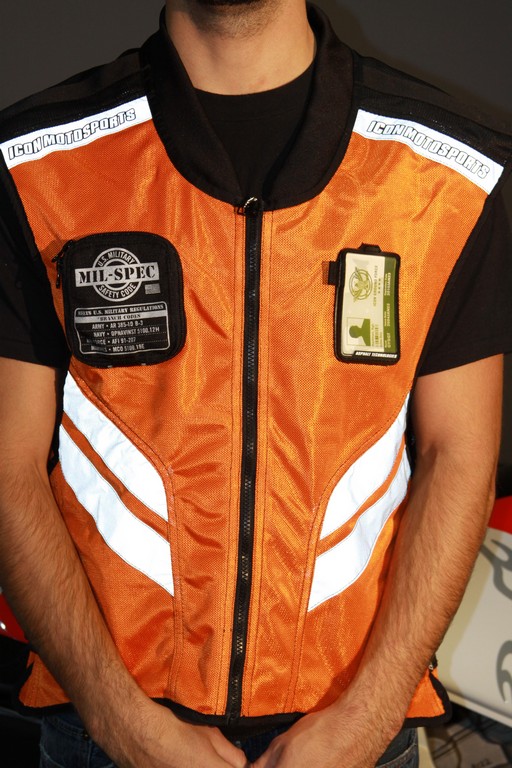 DoD aft-facing retro reflective requirements are satisfied with a 3" x 10" reflector just below the neck and two pairs of 1.5" thick hash marks at the lower sides.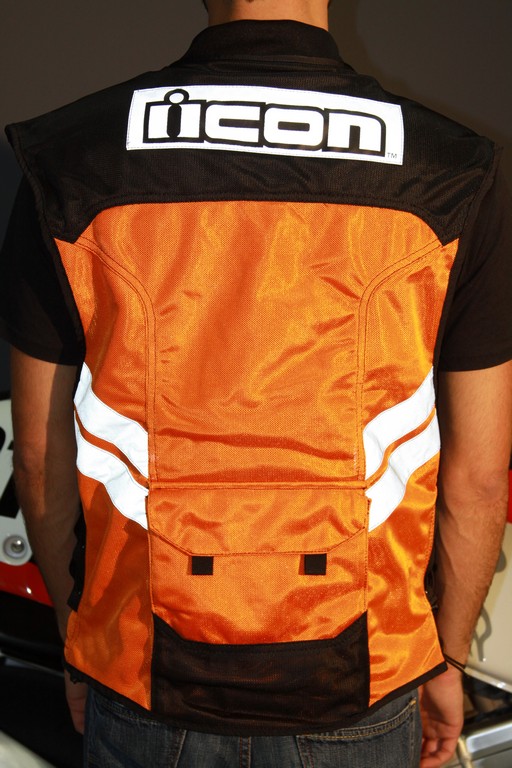 The inside of the reflective vest is made up of a comfortable mesh. Here, you can see the inner pocket and the easy-to-adjust cinch mechanism.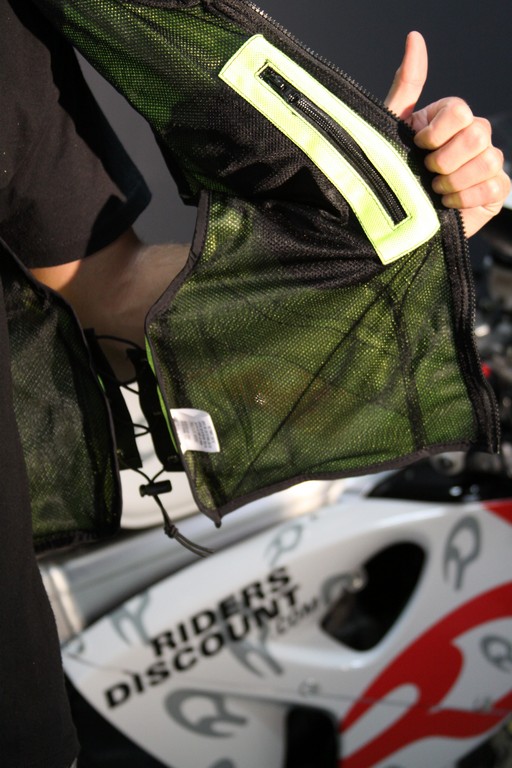 Icon's yellow reflective vest. On the front, two 1.25" and two pairs of 1.5" retro reflective stripes meet MIL-SPEC requirements.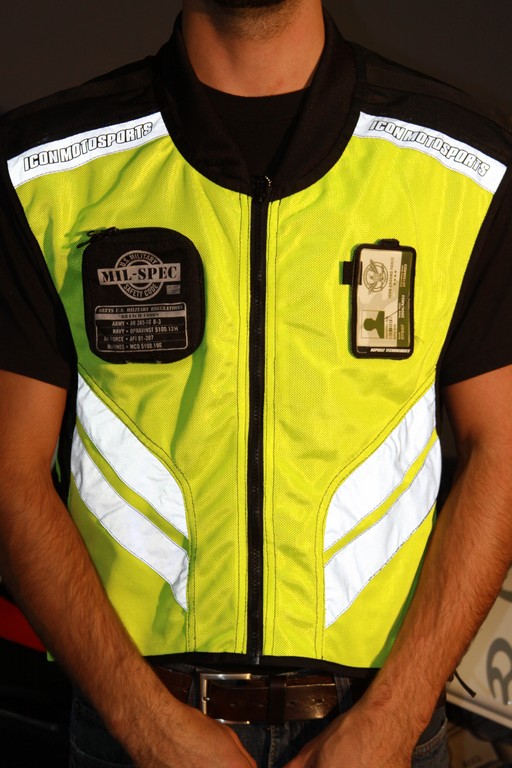 In case anyone asks, each branch code is rubber stamped on the front of the jacket: AR 385-10 B-3, OPNAVINST 5100.12H, AFI 91-207 & MCO 5100.19E.