Custom Built, Award Winning, 2001 Ducati 748 Superbike... with over $30,000, 3 Years of Build Time, not to mention All My BLOOD, SWEAT and TEARS invested!!!
Asking $6,450
List of Extensive Modifications:
Charcoal Grey Custom Paint by "Jason Haskins Hot Rod Shop" with Clear Coated Carbon-Fiber highlights ($$$$)
Marchesini "S" Model 5-Spoke Powder Coated Red Wheels ($$$$)
Termignoni "Full" 45/50 Carbon-Fiber Exhaust System ($1,700)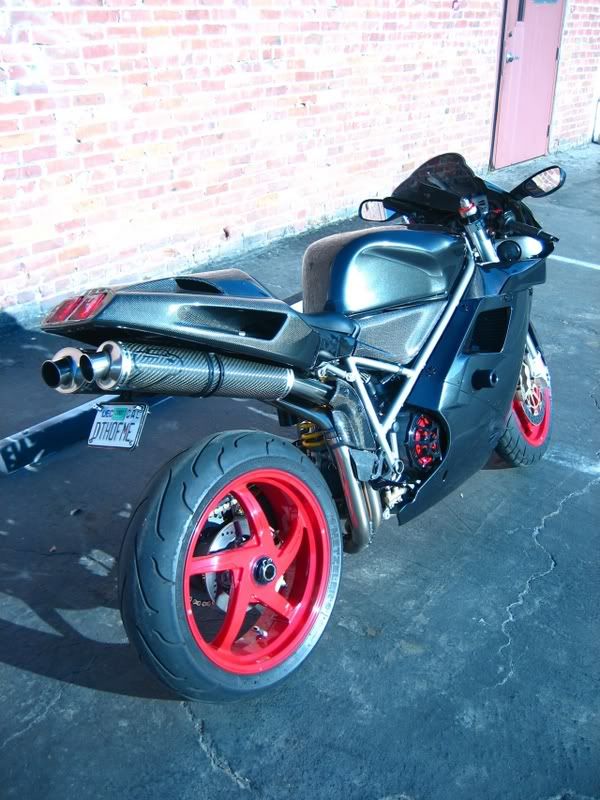 Rebuilt Engine and Replaced Rockers performed by Certified Ducati Dealer ($7000)
Surflex Racing Slipper Clutch ($1,350)
Brembo GP Brake Master Cylinder ($250)
Brembo GP Billet Clutch Master Cylinder ($340)
Evo Billet Slave Cylinder ($180)
Cycle Cat Frame Sliders ($120)
Cycle Cat Bar-End Sliders ($65)
Ultimap Chip ($$)
ITG Air Filter ($$)
AFAM Chain & AFAM Quick change kit and gearing ($$$)
Motowheels Carbon-Fiber Race Nose Fairing w/Enlarged Ports ($600)
Motowheels Carbon-Fiber Race Airbox ($680)
Motowheels Carbon-Fiber Enlarged Race Air Runners ($630)
Motowheels Carbon-Fiber Mono-Tail ($600)
Custom Painted and Upholstered Bi-Posto Tail with hardware and secondary tail light ($$$)
Motowheels Carbon-Fiber Front Fender ($240)
Motowheels Carbon-Fiber / Billet Fuel Cap ($190)
Motowheels Carbon-Fiber & Clear Coated Exhaust Guard ($90)
Motowheels Carbon Fiber Swing Arm Guard ($100)
Carbon Fiber Chain Guard Cover ($$$)
Carbon Fiber Radiator Fairing ($$$)
Speedymoto Billet Triple Clamp ($350)
Tec Moto Billet Clutch Cover ($$$)
Motowheels Billet Rear Wheel Nuts ($100)
L.E.D. Tail Light ($200)
L.E.D. License Plate Light ($)
Stainless Steel Rear Brake Line ($$)
Race Battery ($110)
Custom License Plate Mount ($90)
DZUS fasteners ($$)
PUIG Smoked MV Agusta Style Windscreen ($90)
... and my heart and soul.
(I have included presently advertised list prices for these various modifications where available)
Only the best rated aftermarket parts were used in her build, obtained from Motowheels who supplies only "Top Class" products and is world renown for their specialization in Ducati, specifically offering the best quality carbon fiber on the market!
Design:
In an effort to better describe her chosen paint scheme, one may see the influence of the Ducati Senna in my design, with some additional, slight variances. She is painted in a dark metallic grey, with her "number boards" formed by clear coating over the carbon fiber core. All of the non-painted carbon fiber has also been clear coated in order to obtain a uniform look and for overall protection. This work was carried out to completion by "Jason Haskins Hot Rod Shop" which specializes in award winning show car design. Additionally, the bi-posto tail displays a custom upholstered passenger seat in order to match the painted plastic.
Miles:
Less then 2.5k since top end rebuild performed by Certified Ducati Dealer (including ALL NEW ROCKERS!) as well as 6000 mile service (with NEW BELTS)!!!
Less then 8k since bottom end rebuild performed by Certified Ducati Dealer.
***While the motorcycle's chassis and gauge register 26,952 miles, it is important to note that as almost the entire motorcycle has been rebuilt or parts replaced, these miles do not accurately depict the age or condition of the bike. Instead, potential buyers should compare this motorcycle to others with 8k working miles and 2.5k miles since initial service... one including both new belts and all new rockers!!!
Title:
Clear Title... No lien holders. Bike has been purchased and built with cash, not loans.
Usage:
This bike was has been used for pleasure throughout ownership. It has NEVER been tracked and was ALWAYS well cared for. All services have been performed by Certified Ducati Dealers. In addition, every 3k miles I personally performed an oil change using Ducati recommended products. I am a 31 year old, adult male, with 8 years of riding experience... all on Ducati motorcycles. I am the ideal previous owner.
Details:
This bike has BOTH a Carbon Fiber Mono-tail as well as a Custom Painted and Upholstered Bi-posto Tail. Switching between the two can be accomplished in as little as 3 minutes. So you can always be prepared whether you are looking to add that lovely unexpected passenger or want to show off the carbon beauty running solo!!!!
While it has never been "DOWN", it has suffered a tip-over in storage. This has resulted in a few cracks in various places of the motorcycles fairings. Firstly, in the nose fairing (located above and to the left of the most forward DZUS fastener point, where the nose fairing covers the left air runner). Secondly, at the base of the nose fairing (under the left headlight) another crack is revealed. Both of these are without a doubt repairable. Additionally, there is a crack located just above and below the left side frame slider in the left side mid fairing. It should however be noted that due to their location, these all go fairly unnoticed by anyone other than those who are inspecting the bike.
Separate from the fairing, I wish to also mention that there is also a crack in the left upper "nose" fairing support (arm) and a crack on one of the gauges plastic covers.
Regardless of the disclosed faults, all one needs to do is look at the abundance of modifications done to this motorcycle to understand that parting it out alone would bring the new owner a healthy return on his or her purchase. That being said, I could never bring myself to perform such an act as it was my pleasure to create her, and while it causes me great pain to let her go at this time, I do not hold any interest in dismantling her.
I am opening a new business and am in immediately need of redirecting my assets. I am therefore offering this motorcycle, along with the stated modifications, at a price below KBB for a 2001 Ducati 748 Bi-posto in "stock" condition. I do so in order to process a quick sale!
*She is presently available for viewing in Citrus Heights (suburb of Sacramento), CA. You are also welcome to email me with any questions or to request additional photos.