Discussion Starter
·
#1
·
I have a friend that said 6 percent of all track day attendees crash...Damn those statistics
I was up at Buttonwillow for a track day with the Track Club on Monday. I was having a fantastic time. I worked with one of the instructors for awhile which was a huge help. Toward the end of the day I was doing much better and had really made some progress. In my last session I was on my own focusing on the 2 turns that were giving me problems. I was thinking to myself that I needed to come in because the setting sun was driving me crazy. I decided to go around one more time and then head in. I hit one of the turns (the Bus Stop) at a good clip and the sun caught me off guard and I lost focus, I went past my turn in point so I headed for the dirt. Totally forgot about using the rear brake in the dirt and grabbed too much front brake once I got there. My bike was very unhappy with that choice and decided to spit me off into the dirt. Got up, turned the bike off and the corner workers were over by that time checking on me and loading up my poor battered bike.
I'm fine, I jammed 2 of my fingers on the clutch on my way off and I have a big bruise on my leg but then again I bruise if you look at me hard. The bike is a little battered, she now has character along with soul. I'll need a new headlight assembly, new bars and a new shifter. She now has the infamous Ducati tank dent. I should be able at some point to get it pulled out.
I'm hoping that someone here will have the parts I need. I priced stock parts and that headlight assembly is a bit spendy and the only part of mine that is salvagable is the wiring harness. If someone has parts to sell I'll be able to get back on the road quicker.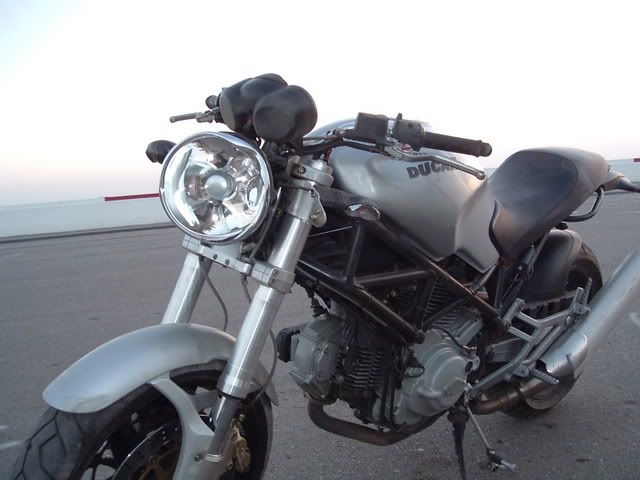 Check out my shifter all curled up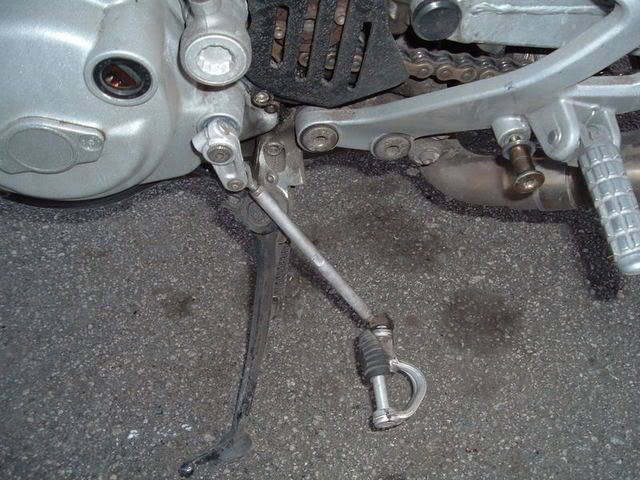 What did I get from this?
First, when you think its time to get off the track it is. Could I have made the turn? If my mind was where it should have been, definatly but I'm not sure I could have made it at that speed, that far past my turn in point. Even then, hard parts would most likely would have been dragging since I scraped through there before.
Second, my Monster is not a sportbike. It scrapes way too easily, I generally try to stay away from that but I was pushing harder than usual. Its a fantastic streetbike and I love it in the canyons and the city but I'm going to have to look into getting a track bike if I keep doing trackdays
Third, Use the rear brake in the dirt!
Yes, even with that it was a great trackday!