If you're serious about your time at the track, then you need a set of tire warmers. Chicken Hawk Racing's motorcycle tire warmers are the best you can get and the choice of many top AMA teams. Designed and made in the USA, every Chicken Hawk Racing Standard model tire warmer is built to last. A durable Cordura exterior shell surrounds a high-quality heating element that brings tires up to 175˚F and keeps them there until you're ready to ride. These warmers are built to cover not only the tread on your tires, but also the sidewalls, so heat gets deep into the carcass - even the rims get warm. All of which helps to provide consistent, predictable tire grip. The Dupont Aramid inner liner that faces the tire is not only melt-proof, but it's also made with a heat sensitive dye that will change colors to indicate a malfunction in the heating element or improper use. A felted Nomex insulation is used between the inner and outer layers that's designed to help keep your tires warm when the wind picks up. And, just so you know your tires are ready, an indicator LED on the cord will turn from red (when heating) to green when the tires are up to operating temperature.
The advantages of tire warmers are many and worth noting:
Increased track time - With a warm set of tires, you can go into the first corner with confidence knowing your tires are going to stick. By being able to to obtain a faster pace at the beginning of a session, you'll spend more time at full throttle rather than carefully going around waiting for the tires to come up to operating temperature. In this way, you really do get more laps out of your day at the track.
Reduced likelihood of crashing – The very fact your tires are up to operating temperature means you can set the proper "hot" tire pressure without having to go out on track to get heat into the tires. This advantage is two-fold: you don't have to go out on cold tires that don't grip and, you'll get more track time since you won't need to come in and quickly try to verify that your tires are at the proper hot temperature. All of this means you'll spend less time worrying about crashing because of cold tires.
Reduced cost – When you think about it, there are many ways in which investing in tire warmers is a money saver. Crashed bodywork, broken bike parts and tires are not cheap. ChickenHawk warmers help address all of these issues since you're less likely to fall down and damage equipment by pushing too hard on a cold set of tires. Additionally, tires will last longer as they're less likely to "cold tear" when they're up to operating temperature. Tires also have a finite number of heat cycles before they no longer offer predictable grip. The constant heating and cooling of your tires between sessions on the track and time spent in the pits ultimately leads to a degradation of the compounds that allow the tire to adhere to the track surface. By leaving your tires on the warmers, they essentially go through only one heat cycle for the day, increasing their useful life.
As you can see, Chicken Hawk tire warmers provide many advantages from both a cost and safety standpoint. To order a set, call MIKE at 866.931.6644 ext 804 and he'll get a set shipped out to you fast. You can also email us with any questions you have - send those to MIKE at RIDERSDISCOUNT dot COM with the subject line CHICKENHAWK WARMERS and he'll get back to you shortly.
Chicken Hawk Standard model motorcycle tire warmers are sold as a front and rear set that come to you with a protective nylon bag for storing them when not in use.
The inner Dupont Aramid liner is durable and helps warm the tire evenly.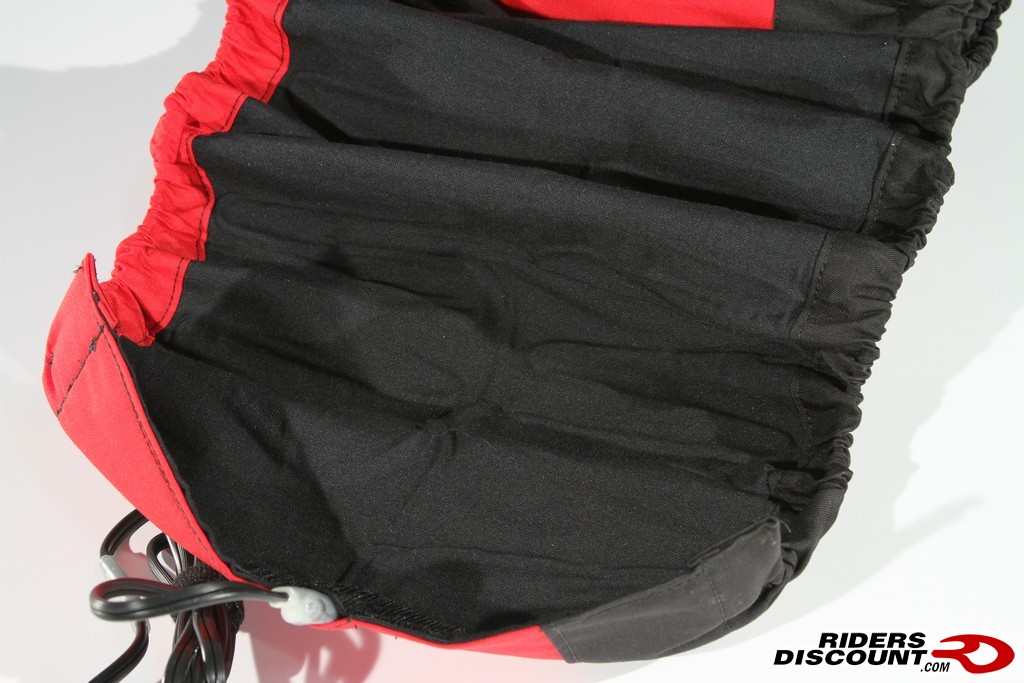 Embedded within the power cord where it emanates from the warmer element is an LED indicator: RED means the tire is not yet up to temperature, GREEN indicates they're ready to go.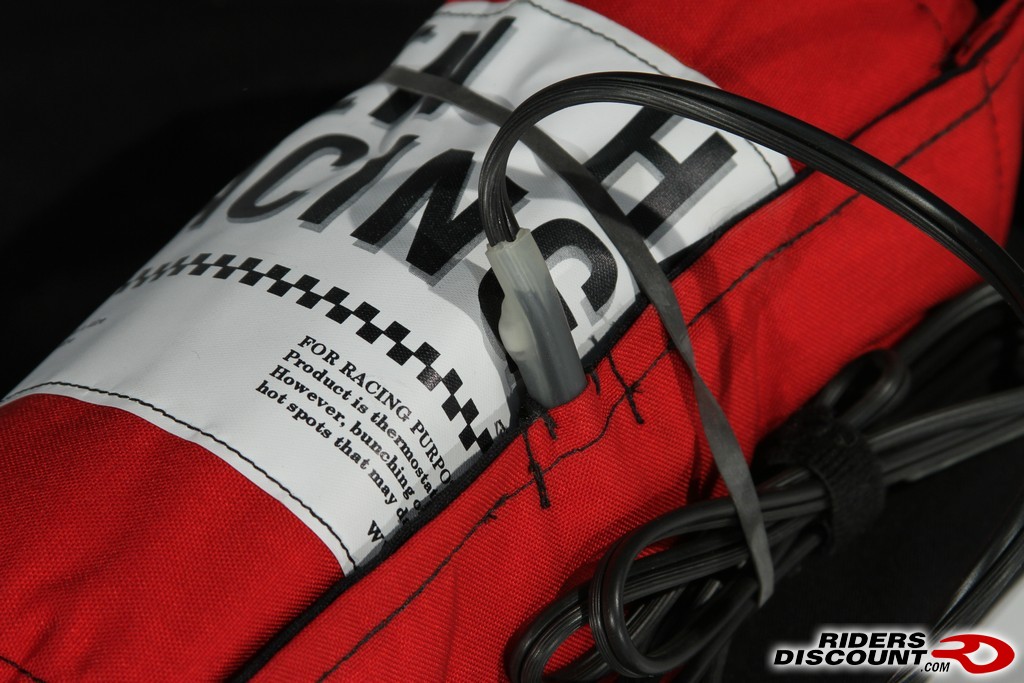 All Chicken Hawk Racing tire warmers are made in the USA and backed by legendary customer service. With proper use and storage, you can expect these to last for years.