Junior Member
Join Date: Apr 2007
Location: Hawaii
Posts: 29
What is this black thing??
---
When changing oil I've noticed the black blob at the bottom of the oil filter area.
It feels like hard rubber, has irregular margins and cracks, and looks like chunks of it
may eventually come off. I was not able to peel off any of that with my finger nail, pretty
sure some of it would come off if I got more assertive with a screwdriver or so.
What is it? Is it some sort of a deformed rubber plug?
My consolation is that in case it comes loose, the oil filter will capture it.
Pics attached:
---
__________________________________________________ __________________________
'08 S2R 1000, '05 FZ1, '04 DRZ400S, '01 ZRX1200
---
Last edited by Snailster; 11-13-2012 at

02:56 PM

.
Super Moderator
Join Date: Mar 2010
Location: Austin, TX
Posts: 3,418
It is part number 79920772A oil bypass spring.
Here is a picture of one that has no deformation,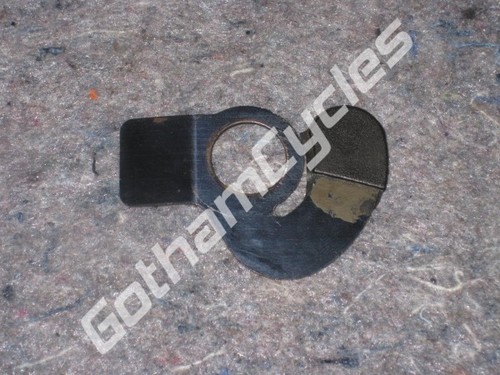 Obviously a stolen pic from Ebay.
Dealer replacement price: $10.99
I was hoping to send you to Ebay to buy it from Gotham but their price is double that for a used item. I would normally have recommended them.
Use this parts fiche,
http://issuu.com/ducatiomaha/docs/ms...ine&mode=embed
Page 26 for a line drawing of it and how it is mounted and page 27 for part numbers. Looks like a small piece of pipe unscrews and is a quick swap for a new one.
Good luck and I hope that helps you.
And no, I do not know why it is dipped in rubber, nor why it degraded. Generally a bypass spring is there in case the filter gets clogged, then the pressure won't build up and blow out the filter. It will keep circulating throughout the engine until the filter is changed out.
---
09 Aprilia RS125 plated< NEW info> Now a 144 and back on the road!
06 Paul Smart Sport Classic NFS ever.
08 S4RS Tricolore #081 NFS ever.
The pink Monster has moved away.
97 900SS CR
72 Norton Commando 750
03 KX60 with S4R rear shock,Honda CB350F, Hodaka Ace90, 3x Yam-YGS1, Yam-CS3 200, Vespa small frame, Gilera 106, Puch Sabre, Puch 50 Boy Racer, Benelli 250, Benelli 360, Honda CB350T, and many more.
Junior Member
Join Date: Apr 2007
Location: Hawaii
Posts: 29
Excellent observation Caferacermike!
On the image below the rubber thingy is not obvious, but perhaps the end
of the spring is rubberized to create a gasket of source.
I just hope the rubber did not melt due to overheating.
Thanks for the input!
---
__________________________________________________ __________________________
'08 S2R 1000, '05 FZ1, '04 DRZ400S, '01 ZRX1200
Posting Rules

You may post new threads

You may post replies

You may not post attachments

You may not edit your posts

---

HTML code is Off

---