Junior Member
Join Date: Feb 2004
Posts: 14
I caught the STT track day on Thursday, and got down to getting acquainted with the new bike. I was experiencing fueling issues on the front straight and down into 5, but that was easy to figure out, I just put more gas in the tank. The fueling is gravity feed only, and I have to loop the hoses a bit to feed the carbs. It didn't occur to me until after the weekend to adjust the inlets on the carbs to a different position, kinda had a lot on my plate. No biggie, though, a few lbs worth of extra gas wash't gonna make much difference at this point. After this, I didn't have a single mechanical issue for the rest of the weekend. Afterwards, well.. more on that in a few.
Of course, before I headed to the track, I dropped the bike off at TSE, our suspension vendors, for a full rebuild and setup. I'm not going to go on about this (can you believe it?), but suspension is the single most important aspect of a race bike. More important than motor, or brakes, and especially tires. Most everyone thinks tires are at the top of the list, but I've seen guys absolutely rail on take-offs that other racers would never use for practice. Most simply, the best tires in the world aren't worth a shit if your suspension can't keep your tires in consistent and effective contact with the track surface. Having said all that, the bike felt pretty good, and better and better as we adjusted it, but ultimately, the front springs were a tad too stiff - I had the preload backed off completely, and still wasn't real comfortable in the bumpier sections. I'll readily admit that I didn't have the most confidence, either, not having been up there for 5 years. Still, I made good progress, quickly getting into the high/mid 2:40 range. I'll say one thing that's changed in the last 5 years, though, and that's the electronics on the big bikes. I caught very few guys on R1's there, and I used to pass quite a few track day guys on liter bikes 5 years ago. Good for them, although I still don't want all that crap, I'm just going to have to learn how to go fast again.
The motor didn't seem as fast as I'd hoped, but then again, I hadn't been up there for 5 years except for on the yellow bike, and that one is a much more developed machine with a bigger, faster motor. Also, I've never had a problem with grabbiness with the standard alloy basket dry clutches, but the motor I'd gotten off my buddy had the alloy center hub race clutch, which I'd never had experience with, and which I found to be grabby indeed. Regardless, I became a little more confident and quicker with each lap, and the bike never put a wheel wrong.
The first race of the weekend was GTL, which has always been my fave. It's CCS' long format-race, at 25 minutes plus a lap. I've always been kind of a slow starter; guys are always wanting to have "led" a race, even if it's just for one corner, so lap 1 turn 1 is usually a shitshow I'm leery of. With 26 expert starters in this race - the biggest grid I've ever been on - this start was exceptionally so. I got held up dicing it out with 3 other riders for too long, and by the time I got away, I only had a lap or 2 left, and finished around the middle, in fourteenth. I was happy with that result, no prob. I'd hoped for a better time, although I got down to a 43. My best up there in '09, as an amateur, was 41's, and I did 40 flats in '10 on the S2R. My only real objective this weekend was to get into the 30's, although I also hadn't done any real physical conditioning this year. Whatever, onward ho.
Lightweight Formula 40 was a similar race, although with only 15 expert starters, but my finish was better, at 7th. I ended up dicing with one of the same riders I'd battled in GTL, beating him at the line. He was pissed. I was pleased. My time was slower, though, a 45. It's hard keeping intensity up when there's a big lag between races, and we had a restart on this one too, which didn't help. Big friggin deal, though, I was racing again, couldn't have been happier.
My last race on Saturday was Thunderbike, with only 9 expert starters, and oil dry down in, I think, corners 11 and 12. Or was it 12 and 13? I never even know what the corner numbers are at most tracks, I just know where I'm supposed to go. Anyway, one of the fastest riders killed it on the start, and I started from track right, which gives you a great line to turn one, and found myself in 2nd place by turn 3, which I was thrilled about. For half the race, I giddily shouted "I'm in 2nd! I'm in 2nd!" to myself in my helmet, right up until Shannon (the rider who killed the start, she's an awesome racer) nearly leaned on me at the apex of one as she passed me on the outside, at which point I giddily began shouting "I'm in 3rd!" - I never aim high, the better to avoid disappointment. I held onto the position, and actually captured expert wood directly after a 5 year hiatus. I'm sure the oil dry in those corners intimidated a lot of the guys, but it never scared me much, I just adjust my lines to cross it as quickly as possible and get on with it. My times bore this out too, I wasn't any faster, I think I did a 44 or 2, maybe not even, but they were mostly going slower. Doesn't matter. I'll take it.
Saturday was a great night, spent with friends as always, made all the sweeter by great day racing.
Sunday was a beautiful day, and I was signed up for 2 races, GP and Superbike. Gp was first, with 22 starters, and I finished 11th, about as dead bang center as you can. I was happy enough with that, but even better, I ran down to mid-low 42s, so I was happier still. Progress in the right direction.
I skipped Superbike. It was late in the day, so I didn't feel like enduring the lag, plus I had some not-great family news on the phone, so I decided to just enjoy the rest of the day with my wife and another of my best buds and his wife. Gotta maintain life balance. We grabbed some beers and our bicycles, and went off to explore the track and spectate. Heaven on earth for me, and an overall success from my perspective. Not easy to show up with a brand new bike and race at all, much less finish every one you enter.
So, I hinted at problems with the "low hour" motor that came in the SS. Actually, I shouldn't use those quotes, it is a low hour motor, there were apparently just some real hard ones in there. I was chasing down a few oil leaks on the case covers and one of the cylinder plugs when I got back (my catch can worked great, btw), and got around to changing the oil when I found what looked like pieces of little needle bearings. We took everything off short of splitting the cases and didn't find anything. After studying the parts fiche, though, I split 'em, and sure enough, one of the bearings on one of the trans shaft was disintegrating. Go figure. On top of that, the cylinders and pistons were really worn, way more worn than the ones I'd taken out of my M after 6 years. It was still a good deal though, and it happens. I parked the bike for the rest of the summer and enjoyed life with the wife and friends, as we all should. I'm currently in the middle of putting that motor back together right now, with a few upgrades - a nice 748 gear cluster and appropriate primaries, and of course, some new, higher compression Pistals. This is my first cases-up build, too, so now I'm learning even more. All most excellent. I'm considering whether or not I want to mod that Termi system off the SS to fit this bike; I think the 2 into 1 might be hurting my power somewhat. I'll probably just leave it, though. There is no spoon. I'll be back, and with that 600, too. More on that later.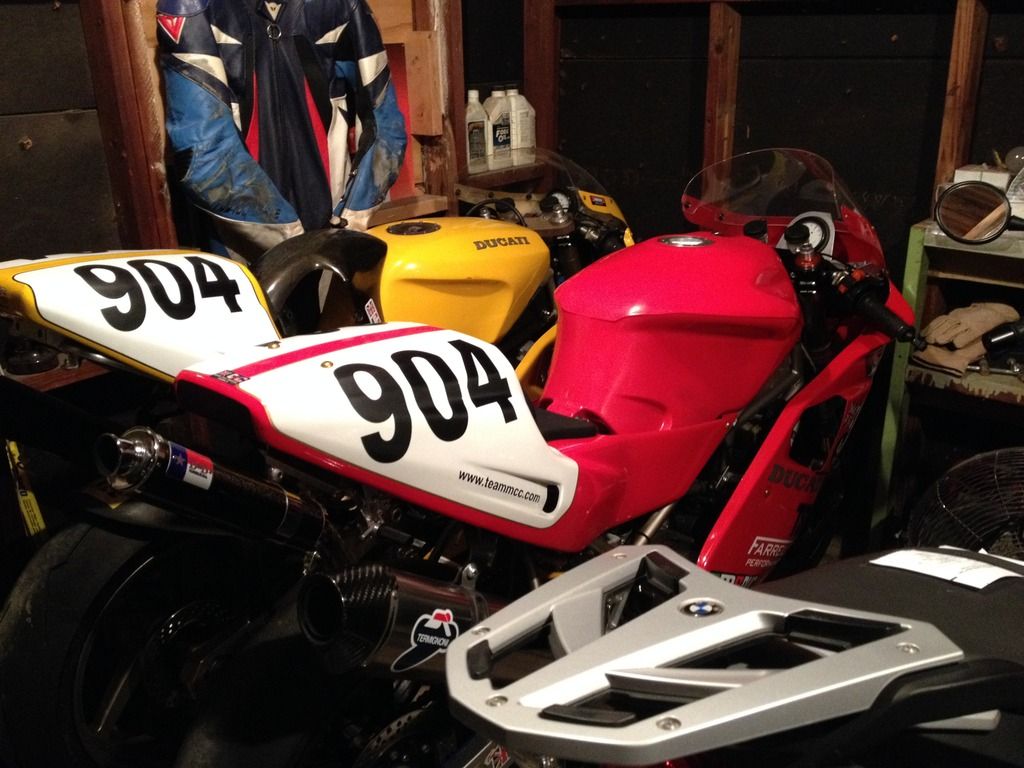 Posting Rules

You may not post new threads

You may post replies

You may not post attachments

You may not edit your posts

---

HTML code is Off

---